Our guide to keepsakes made from your wedding dress
The wedding day is one of the most important and most memorable Day's for a couple; it's when all the pre- planning and ideas come together. One of the best experiences when planning a wedding is choosing the perfect dress.
After your day is over many wonder what to do with their wedding dress. Some of us choose to sell our wedding dress, give it to charity a shop, store it away in a cupboard or loft not be seen again. Why not up-cycle your wedding dress into a keepsake that can be treasured and kept on show to remember that special day as it should be remembered.
Here at Infinity keepsakes we know a thing or two about creating treasured keepsakes made from your wedding dress. We have put together a handy guide of the type of keepsakes we offer, covering the most common questions asked when ordering a keepsake from us.
What are wedding dress memory keepsakes?
Wedding dress keepsakes are a wonderful way to up-cycle and transform your wedding dress into a memory bear, blanket or cushion which can be put on display and treasured for life.
Our wedding dress keepsakes are a great way to keep your memories of your special day alive by having a keepsake made for yourself, your bridesmaids, parents or children.
We also offer christening gowns made from your wedding dress, if you would like your little one to wear something made from your special memory then we can create this wonderful keepsake for you.
What kind of wedding dress keepsakes do you offer?
Infinity Keepsakes wedding dress memory bears are an adorable keepsake to treasure your dress. We will usually try to incorporate the important and most detailed parts of the dress, including buttons, lace, beading and ribbons.
Our wedding dress bears are the perfect addition to your household, whether you decide to display it on your sofa, shelf or bed.
They are available in two sizes and with the option to add personalisation to the feet of the bears or a heart tag that hangs around your teddy's neck.
Another wonderful option is our wedding dress memory blankets; they are made up in a patchwork style using a mix of the decorative parts of fabric from your wedding dress.
The wedding dress memory blanket is available in two sizes. Our standard size blanket is the perfect size for snuggling up to on the sofa or our throw size is perfect for keeping on display at the end of your bed.
Just like our blankets our wedding dress cushion are made in a patchwork style and finished off with a border and backing of cream fleece fabric.  They make the perfect addition to your home, for friends, family and yourself to adore each and every day.
Do you fancy a mix and match of items made from your wedding dress? Infinity Keepsakes offer bundle packages that can use more fabric from your dress and have additional keepsakes to treasure. The options include a bear and cushion bundle and also a bear, blanket and cushion bundle. You can choose all the options available on the individual products but with the extra benefit of being at a reduced price.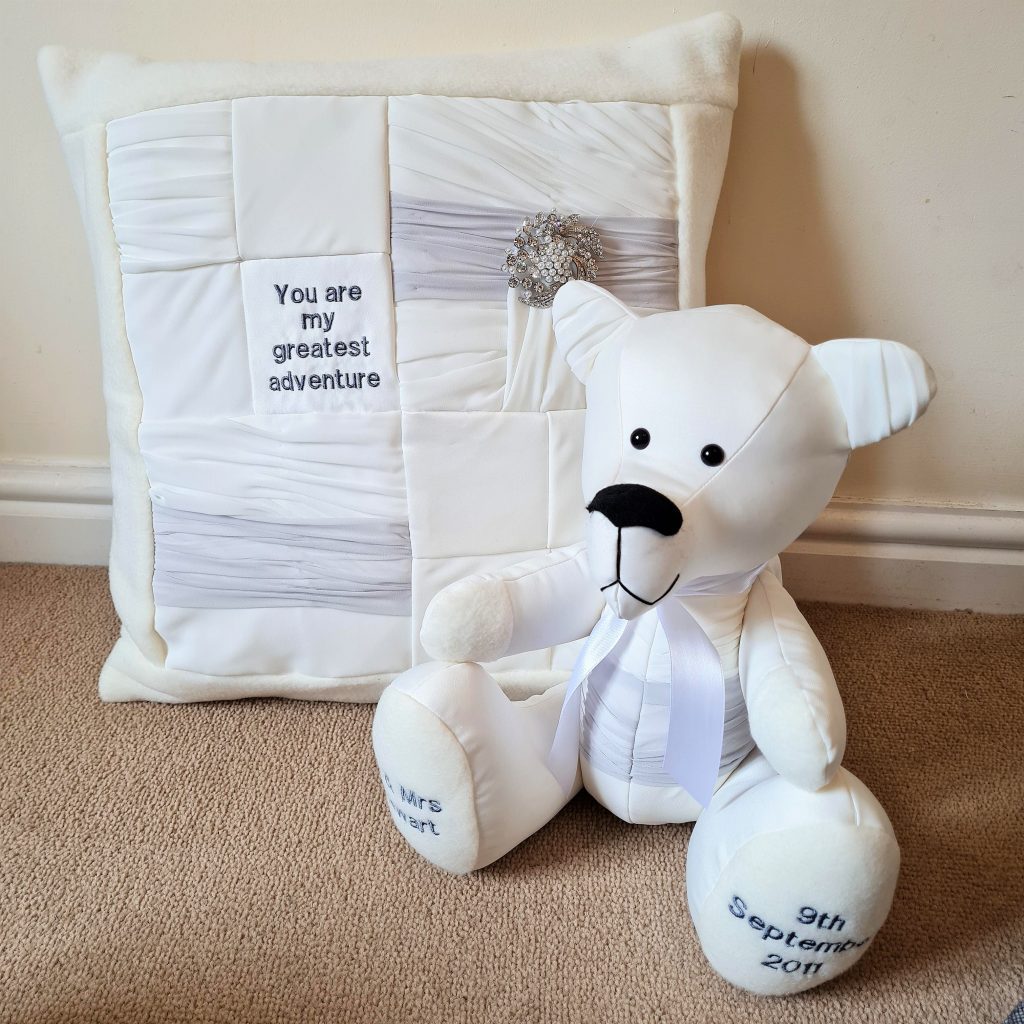 Another options for a keepsake made from your wedding dress is our christening gown. Our gowns are made purely from your wedding dress and in a style that you would prefer, whether you're after a traditionally long gown, ankle length, long sleeves or short sleeves. We will talk you through the steps and contact you before making to discuss any ideas and offer suggestions that we think would be best suited to your wedding dress.
The christening gowns are available in sizes up to one year.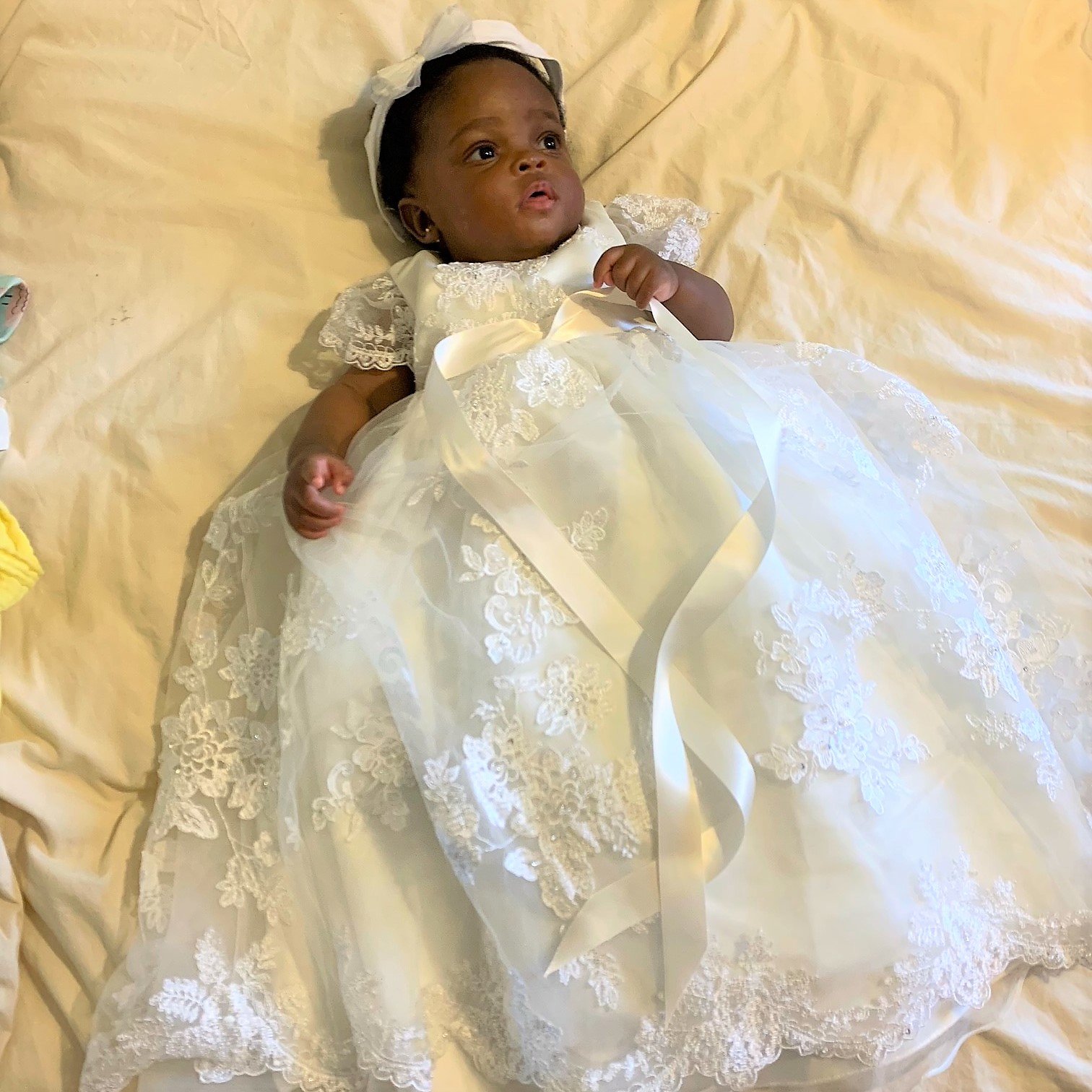 How do you get your dress to us?
When ordering a keepsake made from your wedding dress we usually recommend sending the dress to us by royal mail tracked or signed service. We understand that some dresses have a lot of fabric and require a large parcel, in which case a courier service would be best suited. There are many options for couriers online and they usually come with the option to collect from your house.
How long does a keepsake take to make?
When you order a keepsake from us you can expect to receive your keepsake within four weeks from the date we receive the wedding dress. However, we do offer an express service with a two week turnaround if you need your keepsake urgently or by a specific date.
Contact us
If you'd like to learn more about our keepsakes made from your wedding dress or any of our other keepsake gifts, please get in touch with us. You can reach us through our contact form or by phone on 01752 936765.