Express Options Available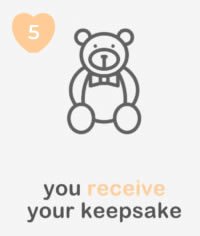 Discover our range of beautiful memory gifts, and we will create a keepsake for you, that will be cherished for years to come – perfect for birthdays, anniversaries, retirements, baby showers, graduations, football club promotions and to commemorate lost loved ones or pets. 
Our memory bears are the perfect way to show someone you care. Made from your beloved clothing and sentimental fabrics, our memory bears can help to breathe new life into your treasured items, to keep your precious memories alive. We can also make school uniform bears as a fantastic keepsake for school leavers.
With everything from bunnies and elephants to cats and mice, our range of keepsake animals is packed with an adorable range of creatures to love and cherish. A great gift for any occasion, our cuddly critters are a magical way to upcycle your favourite fabrics, old baby grows or beloved clothes into a special memory gift.
From lions and dogs to owls and monkeys, our selection of keepsake animals comprises of cute and cuddly creatures to love and look after forever. A great gift for any occasion, our plush creations are an ideal way to upcycle your favourite fabrics, old baby grows or beloved clothes into a special keepsake.
Our adult keepsakes are perfect for special occasions incl. graduation, retirement, Mothers and Father's Day, memorials and more.  So, whether it's a single item of clothing, a collection of football tops, a uniform or a bundle of t-shirts, we can transform them into memory bears, memory quilts, memory cushions or keepsake blankets.
Using your beautiful gown, we can make a range of breath-taking wedding dress keepsakes to help your memories last a lifetime. From memory blankets and memory cushions, to wedding dress memory bears and even christening gowns made from wedding dresses, there's no better way to upcycle your wedding dress!
Browse our full range of memory gifts, and find your perfect sentimental present.
Keepsake Cushion - Cotton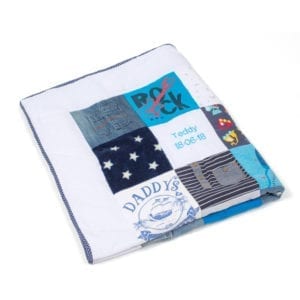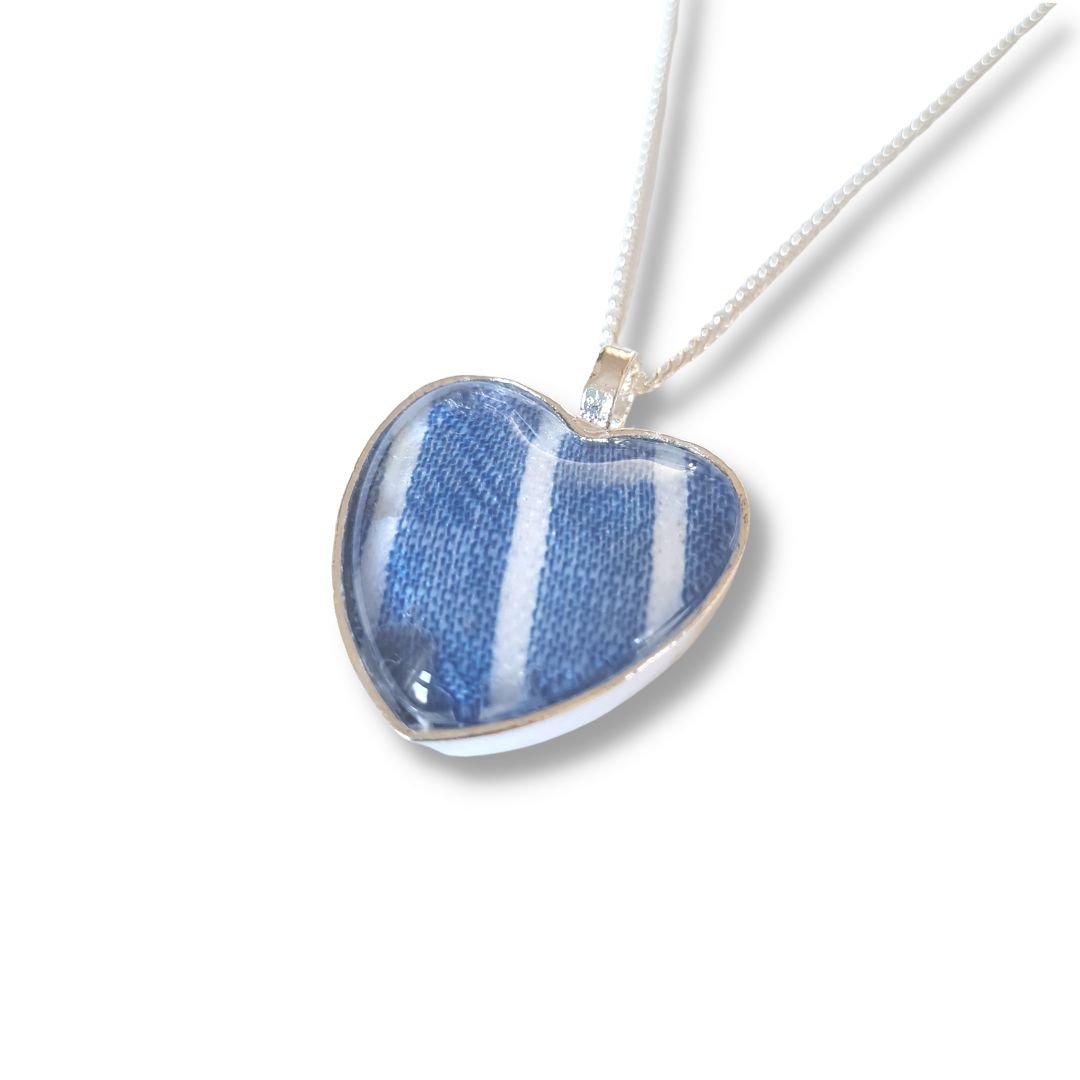 Handmade and bespoke, our memory bears and keepsake animals allow you to hold on to so many precious moments – whether you wish to have one made from old baby grows to preserve the 'first' memories of your little one; as a memory gift made from primary school uniform, when a child progresses to their next school; a way of preserving that feeling when yours/your partner's football team were promoted by using that season's football shirt; as a reminder of your wedding day – using a part of your dress; as a comfort for those left behind when someone sadly passes – made from a favourite item of clothing, or even as a tribute to your dog/cat, using a pet blanket when they have crossed over the rainbow bridge…  You can choose to keep it for yourself, or gift it to someone special.
We can also make a range of cute accessories for our memory bears, including scarves, tutus, ties, jumpers or waistcoats – using your fabric, or our own – depending upon which item you choose.
Here at Infinity Keepsakes, we understand how daunting it can be to send your cherished clothes to us but rest assured – they are in safe hands and will be treated with the utmost care.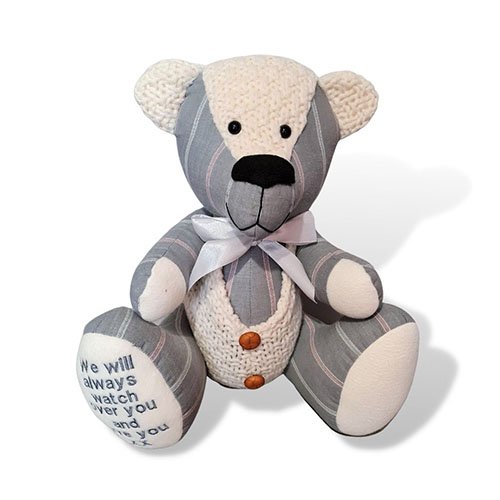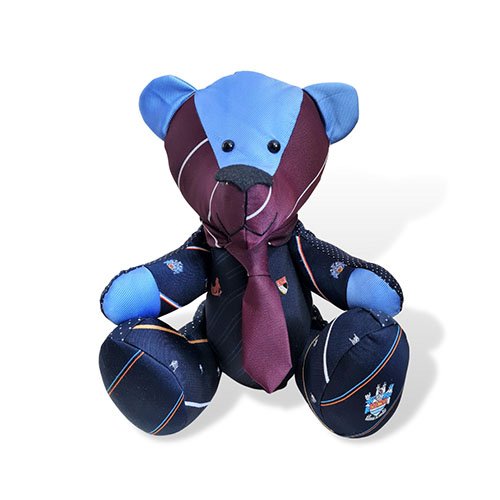 Our Memory Blankets/Memory Quilts and Memory Cushions
Our Memory Blankets & Cushions
Create everlasting memories with our bespoke Memory Blankets and Memory Cushions, designed to collate various memories and make them into one big cuddle.
Memory Blankets and Memory Quilts can be made from bundles of adult clothing, baby clothing or a wedding dress, and come in either standard, single or double sizes, with optional personalisation. They are hand-crafted, with a choice of coloured backgrounds and backing types. Please contact us directly for information on availability and pricing.
We have a selection of unique memory cushions and shirt cushion options available, including keepsake shirt cushions, photo cushions, jumper cushions and patchwork designs made from your baby clothes – all can be personalised to suit, if required.
How Do I Order My Memory Gift?
How do I Order My Memory Gift?
The first step is to choose your keepsake. Pick from our collection of beautiful bears or adorable animals from our website.  Add personalisation, then choose an accessory (if you fancy one) and add it to the basket.  This is the initial part of the process towards creating your unique memory gift.
Once you've placed a clothing memory gift order, you send your chosen clothing to us. We can use almost any kind of clothing and fabric (with the exception of swimwear, plastic coats, shoes or very thick knitwear), so whether you've held onto some clothing from a lost loved one, kept your old favourite baby grows or want to upcycle a school or work uniform, we can use your cherished items. The amount of clothing required depends on the keepsake ordered, so please check the instructions shown with each product.
If you're in any doubt about whether your chosen clothing and fabrics will be sufficient enough to make your memory gift, please call us on 01752 936765 or send us a message to discuss your requirements.
Keepsake Elephant
Feb 12, 2023 by Lucy Smithson
I have just received my keepsake elephant from infinity keepsakes and cannot express how pleased I am with it. It is extremely well made, as is the keepsake heart that I had made for my grandson. I had great service and communication from start to finish. Thankyou all so much.
Gown
May 17, 2022 by Victoria Genever
I decided to get my wedding dress made into a christening gown for my son. I was nervous sending my dress off, but I had no reason to be. I have received the christening gown back today, and I am so happy! It fits perfectly and met all my criteria. It is so beautiful and I'm excited for my sons christening to show off his gown.
Memorial Bears
May 6, 2022 by Mandie Gray
Absolutely fantastic service! Today we received our very special bears in memory of my lovely Dad. Thank you, thank you, thank you! We love them
Here's two of them sat on his chair.
Memory Bear
April 12, 2021 by Rachel Eatwell
My husband bought me a weighted bear for my birthday made out of our little girls first clothes and I would like to say how beautiful it is. I am so pleased with it and you have done such a wonderful Job! I will defiantly be sure to recommend you x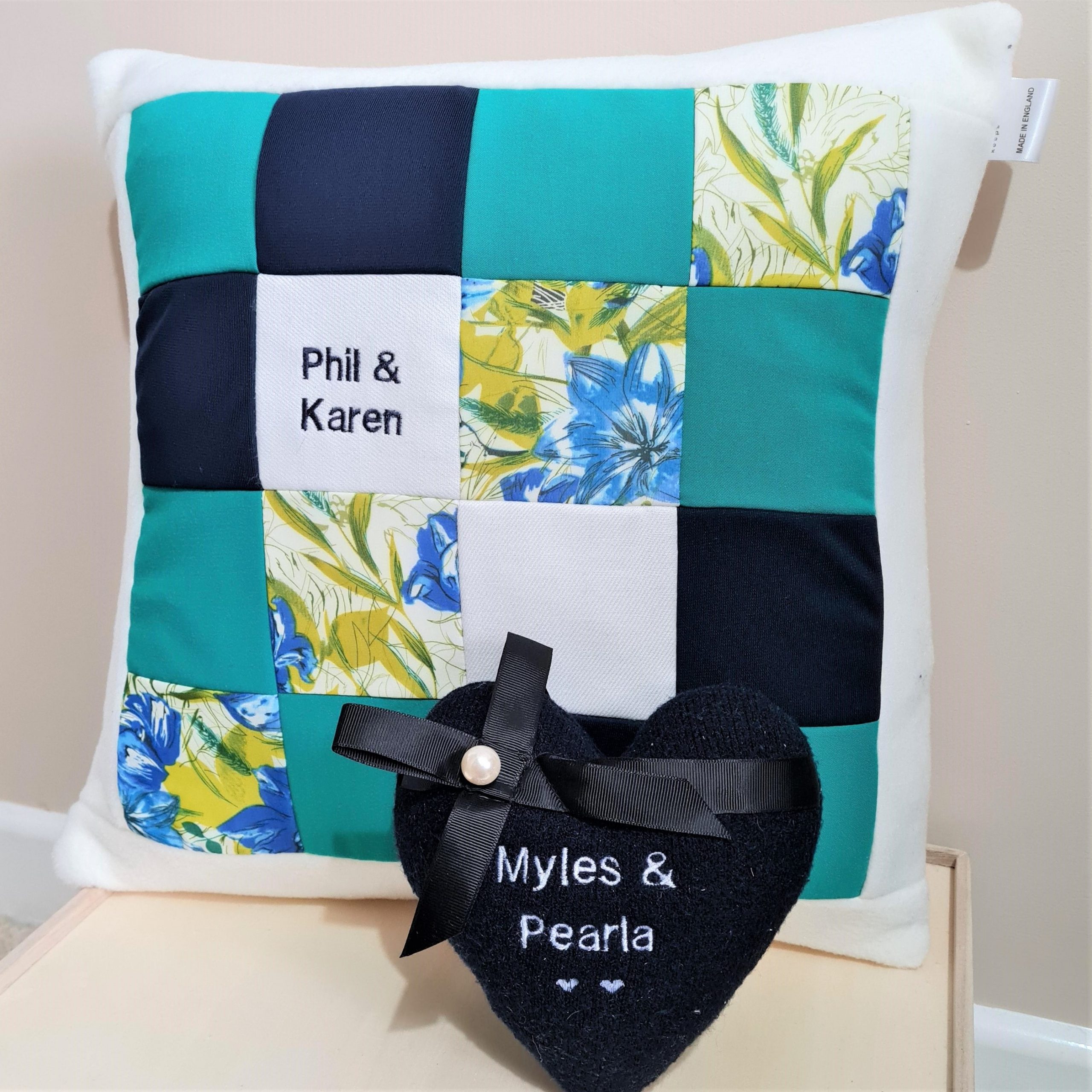 Cushion & Heart
April 5, 2021 by Sue & Lizzie
I'm in love with the keepsakes you have done for me. Thank you ever so much for everything you have done in creating these for us with mums clothes. We will treasure them forever. I am so touched by the way you have talked me through each stage as it was initially a very difficult thing to do. Thank you from the bottom of my heart.
Luxury Quilt
Nov 3, 2019 by Mahamid Latif  
My wife sadly passed away.  To keep her memory alive my daughter suggested that we did something with her clothes. I spoke with infinity keepsakes and asked questions, they explained everything really well.  Both quilts arrived in times and my daughter and I were both astonished with the amazing quality of workmanship.