Our Keepsake Gift Reviews
Hear From Our Satisfied Customers
We are very proud of our wonderful keepsake gift reviews, with more and more of our fabulous customers taking time out of their day to leave us feedback. As a testament to our service and products, we are 5 stars rated on both Google reviews and Facebook.
We love hearing back from our customers and finding out how well we did and exceeded all expectations! If you would like to leave us a review on Facebook, simply visit our Facebook page and click the reviews/recommendations tab to leave one. For those who would like to leave a Google review click here. We look forward to hearing from you.
I am completely blown away by the cushion made, by Infinity Keepsake Gifts, from my darling late husband's favourite two polo shirts. It made me cry when I opened the box. Now I can cuddle him virtually always. Thank you for the care and attention you have shown in producing this incredible treasure for me, bless you. ❤️
My bear is amazing I love it!! Excellent quality!! Thank you so much 💖
Absolutely outstanding ordered x2 bears as a memory bear from my mums clothes for myself and little boy. Thank you so much Vicky they are perfect and better than I could have ever imagined ❤️💜xx
Lynda Green
16:51 09 Jul 21
Absolutely love my memory bear it's beautiful, such good quality and made with such care. It made me cry when I opened the box and saw it, it's so amazing I will cherish it xx
Judy Braithwaite
13:37 09 Jul 21
Vicky is absolutely amazing, her work is just outstanding - high in quality and service! Thank you so much for making such beautiful keepsakes for our Grandsons, who will treasure them in memory of their much loved Grandad.
Karen Putt
22:06 06 Jul 21
Cannot recommend Vicky enough! Absolutely outstanding customer service! The cushion was completed so quickly and is beyond what I imagined! Soooo soft and comfortable! The baby approved her Father's Day present too! The only downside - I didn't want to part with the cushion! Looking forward to placing my next order! Thank you once again!
100% would recommend absolutely beautiful work amazing these truly are worth every penny brings me so much joy and comfort thank u
We got these bears made from my grans clothes, very impressed with the quality and service they are beautiful 💕💖
I ordered a bear for my mum who lost her dad recently. I sent an Formula 1 shirt which contained a couple of logos. The bear arrived so quickly and is absolutely PERFECT. He is stunning and so well made. He has buttons on his arms and legs which make him posable. All the logos were used and put in clever positioning. Even the little F1 tag has been used which I couldn't believe. Well worth every penny. She is going to love him.
Laura Mcgrath
11:08 18 Jun 21
I lost my beloved dad a few months ago and decided to have a bear made from his favourite shirts. Absolutely outstanding quality x
Absolutely stunning reminder of my lovely wife
Highly recommend your services! I was blown away by the quality of the memory bears I bought for me and my mum ❤️ sadly lost my granny 2 weeks ago, these bears will bring us so much comfort 💔 thank you infinity keepsakes xxx
Just recieved my lovely keepsake throw and its beautiful 😍 I wanted something I could keep that had little items both my boys wore as babies. The team kept me informed me throughout and I would highly recommend them.
Great service and happy to answer any questions, so pleased with my item and is a lovely keepsake for anyone. Would not hesitate to recommend or use again - thank you Vicky
My two memory blankets arrived - oh my goodness!!! They are gorgeous. The quality of the work is amazing as are the blankets themselves - nice and weighty.

I cannot thank IK enough for producing these. The blankets are made up of my mum and dad's clothes and it's clear to see that care and kindness have been applied so beautifully to make up the squares of fabric. The squares were cut and chosen to pick out certain details. I would definitely recommend IK for their memory blankets.
I would gladly recommend infinity keepsake after receiving my sons tracksuit in form of a Teddy I'm more than happy with the outcome
im so in love with the luxury blanket ive just recieved. brilliant quality. thankyou so much
I'm delighted with the memory cushion created from my late fathers shirt. I'm looking forward to sending in more items of clothing shortly. Thank you so much 😊
Shirt Cushion
Dec 21, 2019 by David O'Conner
Had a shirt cushion made from my dads t-shirt for my daughter. I cant wait for her to open it on Christmas day! This will mean the world to her! I would highly recommend and will certainty be a returning customer in the future.
Luxury Quilt
Nov 3, 2019 by Mahamid Latif  
My wife sadly passed away.  To keep her memory alive my daughter suggested that we did something with her clothes. I spoke with infinity keepsakes and asked questions, they explained everything really well.  Both quilts arrived in times and my daughter and I were both astonished with the amazing quality of workmanship.
Animals
Oct 7, 2019 by Dwayne
The quality and craftsmanship is absolutely incredible! Ordered Keepsakes teddies for our children and the teddies truly are special and the kids love them!!! Really professional and friendly service. Would highly recommend.
Memory Bear
April 12, 2021 by Rachel Eatwell
My husband bought me a weighted bear for my birthday made out of our little girls first clothes and I would like to say how beautiful it is. I am so pleased with it and you have done such a wonderful Job! I will defiantly be sure to recommend you x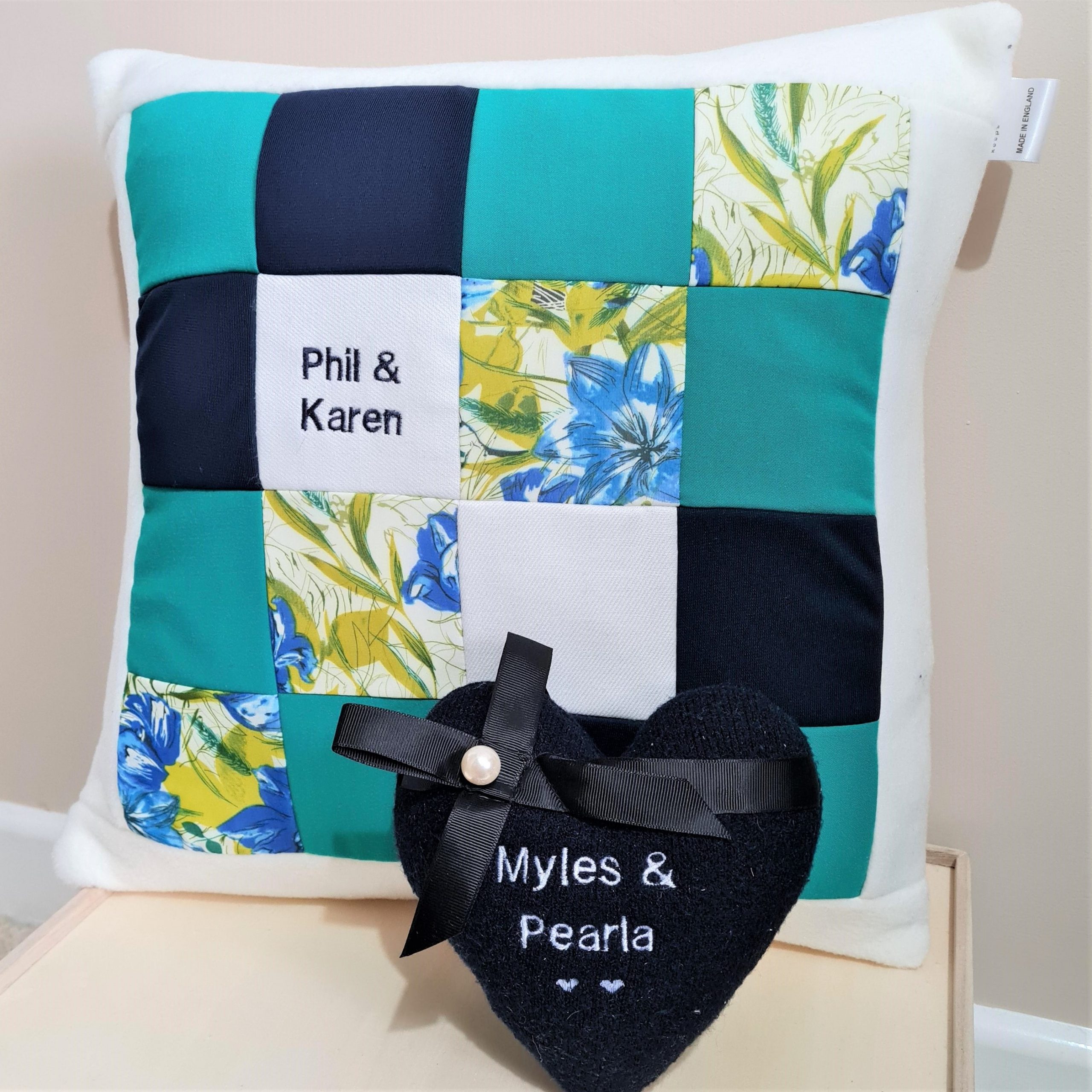 Cushion & Heart
April 5, 2021 by Sue & Lizzie
I'm in love with the keepsakes you have done for me. Thank you ever so much for everything you have done in creating these for us with mums clothes. We will treasure them forever. I am so touched by the way you have talked me through each stage as it was initially a very difficult thing to do. Thank you from the bottom of my heart.