Delivery information
We will email you to let you know your clothing has arrived safely and email again to let you know when your keepsakes are ready for posting back to you.
The cost of delivery is dependent upon the product; please view the table below for delivery prices. 
If multiple products are ordered delivery will be charged at the highest value. There is no extra charge for additional items.
| | |
| --- | --- |
| Gift vouchers & gift sets | £1.50 |
| Large keepsakes (Bears, blankets, quilts, cushions, ect…) | £7.50 |
| Small keepsakes (Hearts, hot water bottle, personalised gifts ect…) | £3.50 |
| Wish Bracelets | 75p |
| | |
| Over £150 | Free |
All prices are for UK delivery only excluding the following postcodes and areas IV, HS, KA27-28, KW, PA20-49, PA60-78, PH17- 26, PH30-34, PH49-50, ZE, Northern Island, Isle of man, Isles of Scilly & Chanel Islands, please phone for delivery prices if you live in any of these areas.
For any special delivery requirements please phone beforehand or leave a note during checkout.
We also offer an 'Express Service' on our keepsakes made from your clothes. This service speeds up the turn around time to 2 weeks from receipt of your clothing. 
Our Express Service option is not available for our personalised in house products.  
Gift vouchers & gift sets will be sent by royal mail first class and will be sent out within 2 days of ordering.
Please check individual products for the latest timescales. If products ordered have different turnaround times, they may be sent together at the latest turnaround time. 
Can you ship overseas?
We certainly can, please contact us for pricing on shipping.
Returns
We cannot accept returns on personalised products. If there is an issue with your order please contact us as soon as possible and we will do our best to resolve your issue. Please read our terms & conditions for further details. If for any reason an error has been made by you, we will make every effort to put this right, there may be a surcharge for this service.
Return address:
Infinity Keepsakes
7 Moorland View
Plymouth 
PL9 8NW
Keepsakes Made From Clothes
How many items do I need for my keepsake?
Please go to each individual product where it will state how many items of clothing are required.
Can I order more than one keepsake?
Of course you can. If you order more than one product and would like certain clothes used for each keepsake, please separate your clothing into bags with a note stating which bag is for each keepsake. If you don't mind which clothing is used for each keepsake or would like a mix of clothing used for all keepsakes ordered please leave your clothes together and make a note of this when posting the clothing to us.
To order multiple products, simply add them to cart and checkout. 
How does it work?
Choose your clothes: Choose your favourite items of clothing. Each product requires a different amount of items needed to be created, please check the clothing section on each individual product.
Choose your keepsake: We have a forever growing range of keepsakes to choose from. Choose your desired one and pick your optional variations.
Once you have placed your order you will receive a confirmation email with instructions of what to do next.
Post them to us: we recommend packing your clothes securely in a postal bag with your PDF order form and sending them to our address VIA royal mail signed for or tracked.  If you have any clothing requests simply write this on your order or on a separate piece of paper and post it in with the clothing.
Infinity keepsakes 
7 Moorland View
Plymouth 
PL9 8NW
We create: When we have received your clothes you will be updated within 24 hours by email. Our talented team will delicately create your chosen keepsake.
You receive: When your order is completed we will post it back to you.
What happens if I send too many or not enough?
You're more than welcome to send extra clothes with your order, please feel free to add notes to your order stating which clothes are most important to you. We cannot guarantee all items will be used, If too many items are sent and are unused we will send these whole pieces back with your finished keepsake. We do not send back any cut pieces of fabrics.
Please try not to send a large amount more than what is necessary.
If you do not send enough items we will contact you to send more.
If your baby clothes are really tiny, please send a couple items as spares.
What condition do the clothes need to be in?
We understand that clothes get worn over time! Most clothes can be used. However if clothes have lots of holes in or are severely stained we will not be able to use them, unless this is what you want on your final product. If your clothes have a little stain or a small hole/ tear in one area, we will try to avoid these. 
If you do not send enough items we will contact you to send more. If your baby clothes are really tiny, please send a couple items as spares.
Can I decide where the clothing is used?
Yes you definitely can. If you have a request to use certain clothes in a specific area on the keepsake please put a note with your order. We will try our hardest to accommodate your request. If for any reason it is not possible we will contact you. Infinity keepsakes team are very practised in knowing what will work well so don't worry about the final design, your clothes are in professional hands.
What type of clothes can/ can't be used?
Majority of clothes can be used. If your clothing is thin or stretchy we will line it so that it keeps it shape. 
Some items of clothing do not work so well. We can't use socks, underwear, shoes, thick knitted fabric or super fine scarves… if you have a fabric you are really unsure about please get in touch and we will be happy to help.
Weighted keepsakes limits?
| | | |
| --- | --- | --- |
| Animals | Up to 8lbs | Up to 10lbs |
| Bear |   | Yes |
| Bunny | Yes |   |
| Lion | Yes | |
| | |   |
How long does an order take?
Our standard turnaround is up to 4 weeks from the date we have received your clothing.
If you would like your keepsake sooner, please choose our express option on the products. You will receive your order within 2 weeks.
We will email you to let you know your clothes have arrived safely and we email you again to let you know your order is on its way.
How do I know you received my clothes?
You will receive an email with 24 hours to confirm your items are safe in our hands.
How do I send my clothes to you?
We recommend sending your clothes in a postal bag by Royal mail signed for or tracked. If you wish we can arrange collection from your home using our couriers, please get in touch and we will advise on costs.
When you have placed your order, you will receive a confirmation email. Please either print your PDF invoice or handwrite your name and order number in with the clothing – 
Infinity Keepsakes
Unit D & E
Huxley Close
Plymouth
PL7 4JN
Where do your patterns come from?
Majority of our keepsakes are designed, pattern cut and tested in house by professionals.
What happens if I have a special request or something I can't find?
Simply get in touch with us and we will be happy to help.
Do you offer discounts for large orders?
Yes it is possible and we will look at this on an individual basis. Please get in touch with us before placing an order.
What are baby gender reveal bears?
We have two different types of baby gender reveal teddy bears.
Our heartbeat gender reveal teddy bear is a ready to go kit that your can take to your scan, it comes with a blue and pink t-shirt for you or your midwife to dress and a sound insert to record the heart beat. 
Our luxury baby gender reveal bear is handmade from our own fluffy and fleece fabrics. It's simple to create your luxury baby gender reveal bear; go for scan, let us know the sex and we will make your beautiful bear with either blue or pink feet. Your bear will come with little booties covering the feet until you're ready to reveal to your friends and family. If you are having twins we will also be delighted to help create your unique baby gender reveal bear by doing one foot colour for each baby. If you're having triplets… good luck!
You can let us know the sex of your baby by any means – Email, post or phone. Your bear can be pre-ordered in advance and you can let us know the sex at a later date. Majority of people who are expecting like to take an envelope to the midwifes appointment (with the order form inside) and ask the midwife to write down the gender of the baby on the form then seal it ready to be sent to us. You will receive your bear within 1 week of letting us know the baby's gender.
How long does a personalised gift order take?
Most of our personalised gifts take up to 7 days from ordering to be delivered. Please check each individual product for delivery timescales. 
What if I want to order a personalised gift and a keepsake made from clothes?
If you have ordered a clothing keepsake product and a personalised gift we may post both together at the latest date. If you would like your personalised gift sooner, please leave a note at checkout to post each item separately. 
Can I send these straight to the recipient?
Yes you can, during checkout add this to the notes section. And we will be happy to send your gift voucher or gift set as requested.
How long is the delivery?
We will send gift vouchers out next working day. You should receive your order within 5 working days. If you need this sooner don't hesitate to contact us and we will see what we can do.
Learn more about our Keepsake Gifts
Keepsake Elephant
Feb 12, 2023 by Lucy Smithson
I have just received my keepsake elephant from infinity keepsakes and cannot express how pleased I am with it. It is extremely well made, as is the keepsake heart that I had made for my grandson. I had great service and communication from start to finish. Thankyou all so much.
Gown
May 17, 2022 by Victoria Genever
I decided to get my wedding dress made into a christening gown for my son. I was nervous sending my dress off, but I had no reason to be. I have received the christening gown back today, and I am so happy! It fits perfectly and met all my criteria. It is so beautiful and I'm excited for my sons christening to show off his gown.
Memorial Bears
May 6, 2022 by Mandie Gray
Absolutely fantastic service! Today we received our very special bears in memory of my lovely Dad. Thank you, thank you, thank you! We love them
Here's two of them sat on his chair.
Memory Bear
April 12, 2021 by Rachel Eatwell
My husband bought me a weighted bear for my birthday made out of our little girls first clothes and I would like to say how beautiful it is. I am so pleased with it and you have done such a wonderful Job! I will defiantly be sure to recommend you x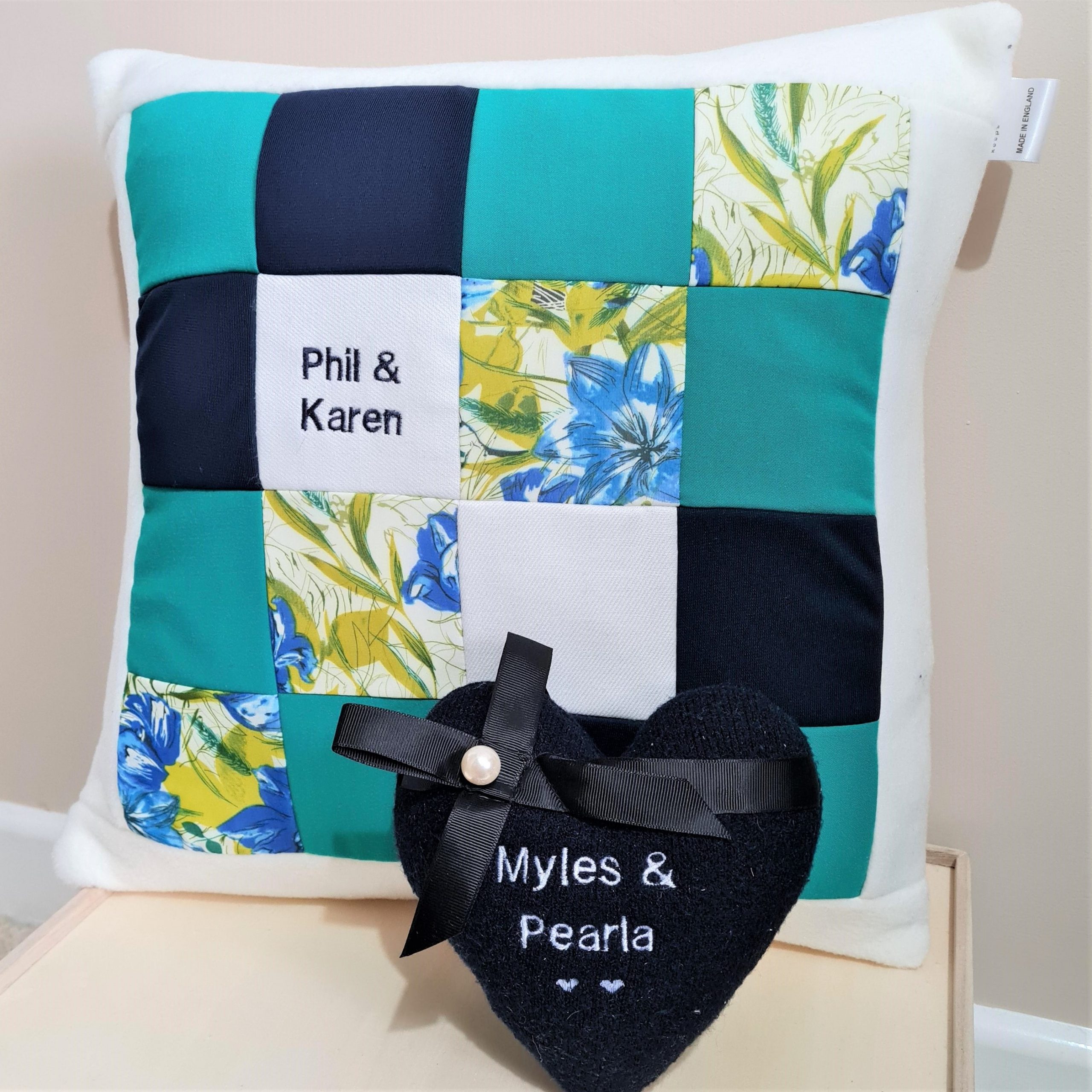 Cushion & Heart
April 5, 2021 by Sue & Lizzie
I'm in love with the keepsakes you have done for me. Thank you ever so much for everything you have done in creating these for us with mums clothes. We will treasure them forever. I am so touched by the way you have talked me through each stage as it was initially a very difficult thing to do. Thank you from the bottom of my heart.
Luxury Quilt
Nov 3, 2019 by Mahamid Latif  
My wife sadly passed away.  To keep her memory alive my daughter suggested that we did something with her clothes. I spoke with infinity keepsakes and asked questions, they explained everything really well.  Both quilts arrived in times and my daughter and I were both astonished with the amazing quality of workmanship.