Memory Blankets for Children
Blanket Keepsakes for Your Little Ones
If you'd like to create a unique keepsake for your child, then a memory blanket or keepsake quilt is a great choice! Unlike many keepsakes designed for little ones, our memory blankets for children will never be outgrown and can be used for years to come, taking them from their early years right through to adulthood.
Memory Blankets – What You Need to Know 
We can create our memory blankets for children out of a wide range of fabrics and materials, so you can choose things that have a lot of meaning to your family or simply pick prints and colours you like the most.
The amount of clothing we'll require depends entirely on the size of the memory blanket you choose. Our standard size blankets are made up of around 30 fabric squares and our double-sized blanket is comprised of around 100 fabric squares, so the larger the blanket, the more clothing we'll require! As a general rule of thumb, 6 – 15 items of adult-sized clothing are used to make the standard size and 15-50 items of adult-sized clothing are used to make the double size. If you're using baby or children's clothing, then please bear in mind that we may require more items as the clothing is smaller in size.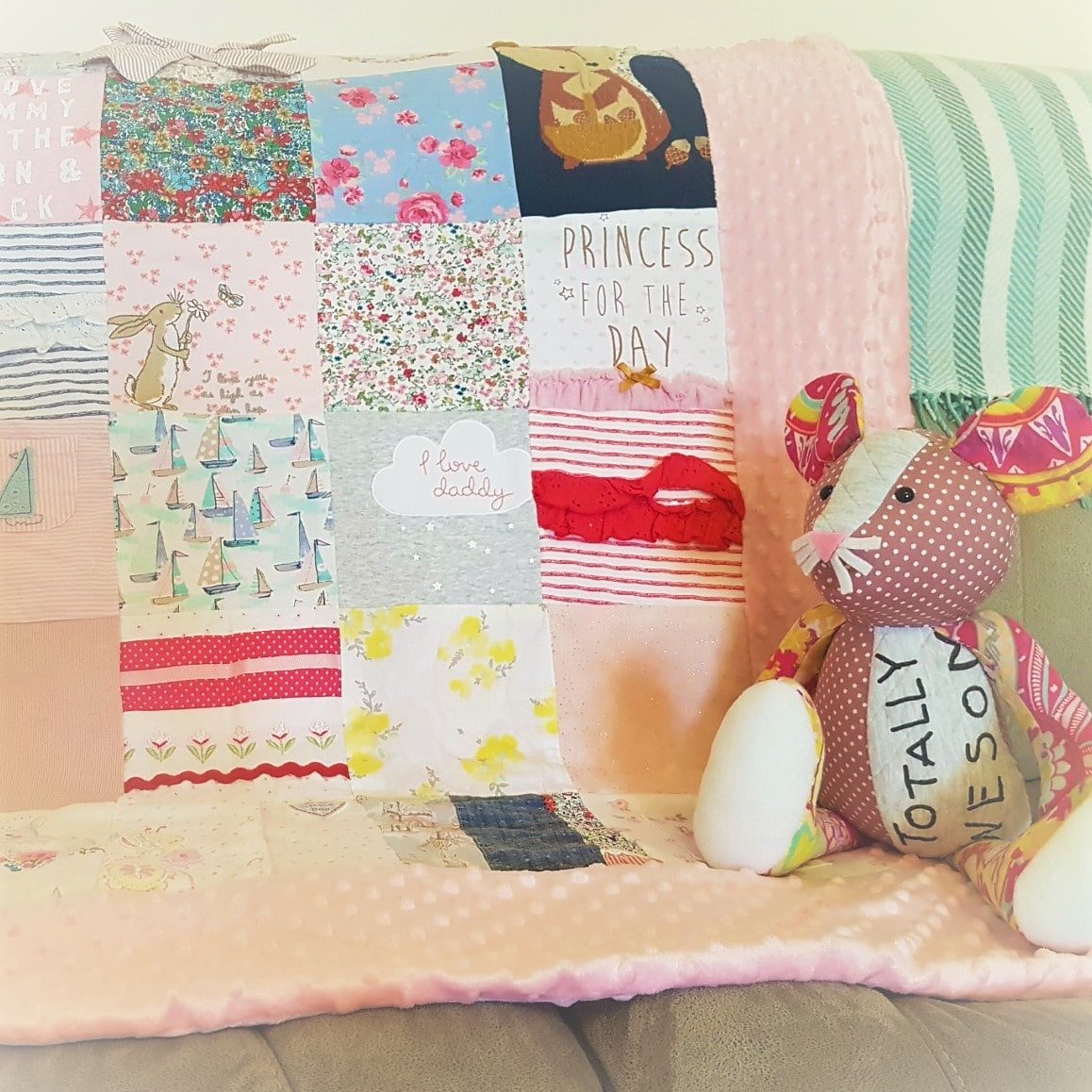 Memory Blankets – What Happens Next
We can create your keepsake blanket using any kind of clothing you wish, so whether you've got some beloved baby grows, a collection of souvenir t-shirts from your travels, favourite garments they've long outgrown or a precious item from a lost loved one, we can transform these cherished fabrics into a one-of-a-kind keepsake gift. Once you've decided on the size and type of blanket you'd like, simply select your clothing, post it to us and when we've received it, we'll begin crafting and creating your bespoke creation.
Please note, there are some fabrics we cannot incorporate into your memory blankets, such as swimwear, plastic raincoats, footwear and extremely thick knitwear. If you're in any doubt about the suitability of your garments, please don't hesitate to get in touch with us and we'll happily assist you however we can.
Handmade, Unique Kids Blankets 
If you've been looking for a meaningful way to repurpose outgrown items, then a keepsake blanket is a wonderful option. As our blankets feature soft, cosy and highly tactile backing and edging, your child can comfortably snuggle under them at bedtime or whilst on the sofa, without irritating their delicate skin. If you plan to regularly let them sleep under the blanket, we recommend choosing a variety of soft items (such as t-shirts, sweatshirts, jumpers or scarves) that won't feel too hard and scratchy.
In recent years, we've created a number of different styles of memory blankets for children, including:
Memorial blankets using clothing from a parent, grandparent or relative
Baby clothes blankets to celebrate their early years
Memory blankets made from sports kits to celebrate their achievements
We're also able to create the following blankets for children:
School leaver blankets, using old school uniforms
Deployment blankets, made using clothing and military uniforms from a parent in the services
Comfort blankets using their favourite outgrown items or special fabrics (such as muslins, comforters or bedding)
Whether you use this as a special comforter or decide to display it in their bedroom, this is a keepsake gift you know they'll treasure forever.
If you're interested in ordering one of our stunning, handmade memory blankets for children, please browse our range of designs, sizes and colour options.
If you've got any questions about our services or would like to enquire about us creating a memory blanket in a non-standard size, please call us on 01752 936765 or complete our contact form to provide details of your request.
Christening Gown
May 17, 2022 by Victoria Genever
I decided to get my wedding dress made into a christening gown for my son. I was nervous sending my dress off, but I had no reason to be. I have received the christening gown back today, and I am so happy! It fits perfectly and met all my criteria. It is so beautiful and I'm excited for my sons christening to show off his gown.
Memorial Bears
May 6, 2022 by Mandie Gray
Absolutely fantastic service! Today we received our very special bears in memory of my lovely Dad. Thank you, thank you, thank you! We love them
Here's two of them sat on his chair.
Memory Bear
April 12, 2021 by Rachel Eatwell
My husband bought me a weighted bear for my birthday made out of our little girls first clothes and I would like to say how beautiful it is. I am so pleased with it and you have done such a wonderful Job! I will defiantly be sure to recommend you x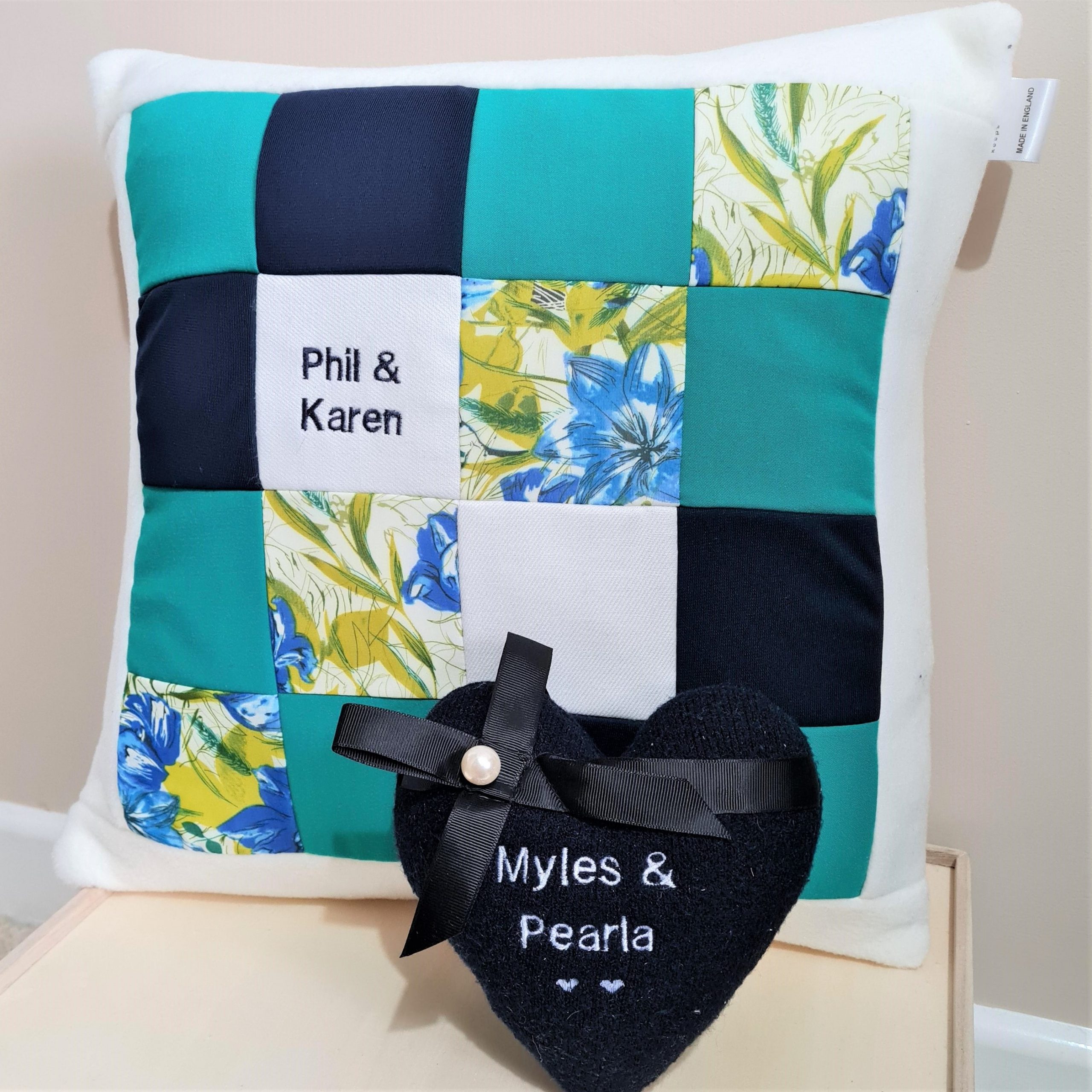 Cushion & Heart
April 5, 2021 by Sue & Lizzie
I'm in love with the keepsakes you have done for me. Thank you ever so much for everything you have done in creating these for us with mums clothes. We will treasure them forever. I am so touched by the way you have talked me through each stage as it was initially a very difficult thing to do. Thank you from the bottom of my heart.
Luxury Quilt
Nov 3, 2019 by Mahamid Latif  
My wife sadly passed away.  To keep her memory alive my daughter suggested that we did something with her clothes. I spoke with infinity keepsakes and asked questions, they explained everything really well.  Both quilts arrived in times and my daughter and I were both astonished with the amazing quality of workmanship.
Shirt Cushion
Dec 21, 2019 by David O'Conner
Had a shirt cushion made from my dads t-shirt for my daughter. I cant wait for her to open it on Christmas day! This will mean the world to her! I would highly recommend and will certainty be a returning customer in the future.