Remembrance & Memorial Blankets
Keepsake Gifts for Lost Loved Ones
A lovely way to celebrate the life of a lost loved one, we can create a one-of-a-kind memorial blanket using the clothing of your choosing.
Memorial Blankets – What You Need to Know
Once you've decided on the type of memory blanket or keepsake quilt you'd like to order; the next step is to choose the size you require. This is a really important step, as the size impacts on the amount of clothing we'll need you to provide us with. For example, we'll need a lot more clothing for a double-sized blanket (made from 100 squares) than we would for a standard-sized throw (made from 30 squares) and if you're opting to use child-sized or baby clothing, we'll need more still to account for the small size of the garments. 
Other aspects to consider when ordering a memorial blanket are the colour, print and texture of the clothing you'd like to include. If you'd like your keepsake blanket to be colour coordinated, then ensure you send us clothing in complementary colours. If you'd like a riot of different patterns to reflect their personality, then be sure to select the brightest and boldest clothing you have available. It's also advisable to consider how different fabric textures will work on the blanket, as certain fabrics (like sequins or roughly woven cotton) can be scratchy and look a little out of place when placed next to thinner, closely woven materials like cotton or jersey.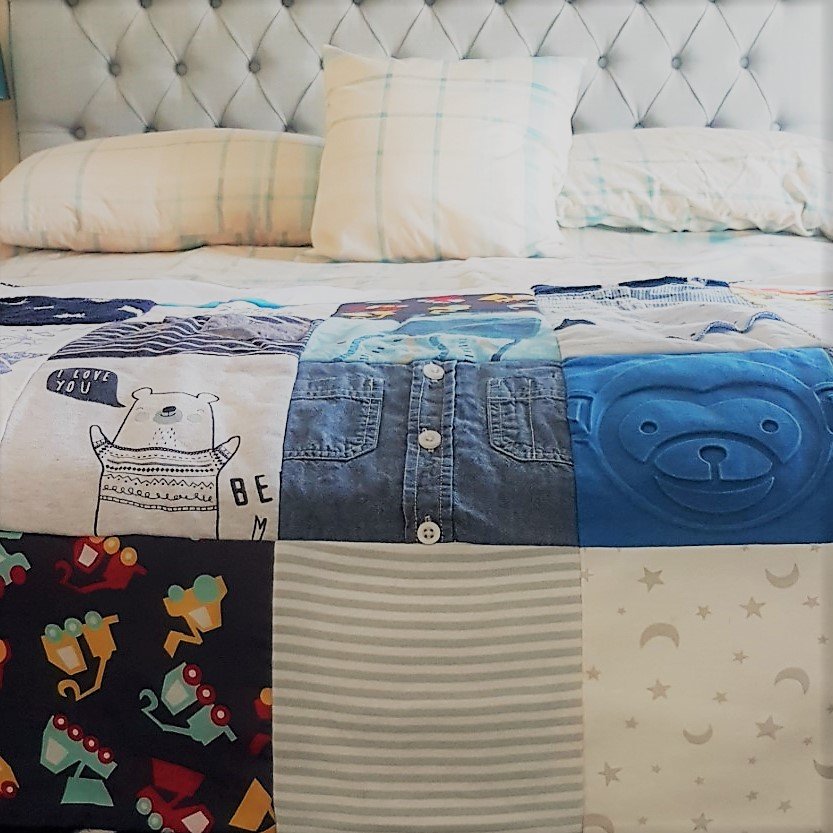 Memorial Blankets – What Happens Next
Whether you'd like to repurpose beloved band t-shirts, transform a bundle of shirts, breathe new life into a collection of lovely dresses or upcycle some cherished jumpers, we can transform your garments into a one-of-a-kind keepsake gift. Once you've decided on the size and type of blanket you'd like, simply select your clothing, post it to us and when we've received it, we'll begin crafting and creating your bespoke creation. We will handle your precious items with care at all times and make each and every memorial blanket with love.
Please note, there are some fabrics we cannot incorporate into your memory blankets, such as swimwear, plastic raincoats, footwear and extremely thick knitwear. If you're in any doubt about the suitability of your garments, please don't hesitate to get in touch with us and we'll happily assist you however we can.
Remembrance Blankets You'll Cherish
If you've been looking for a meaningful way to repurpose their favourite items whilst still keeping them close to your heart, then a remembrance blanket is a wonderful option. As our blankets feature soft, cosy and highly tactile backing and edging, you can comfortably snuggle under them at bedtime or whilst on the sofa, allowing you to feel close to you're the person who has sadly passed away. If you plan to regularly sleep under the blanket, we recommend choosing a variety of soft items (such as t shirts, sweatshirts, jumpers or scarves) that won't irritate your skin or feel too hard and scratchy.
In recent years, we've made a number of different memorial blankets, including:
A memory blanket using Hawaiian shirts, a beloved slogan t-shirt, a work shirt and tie
A patchwork blanket made from a selection of different fabric, coloured and patterned dresses
A remembrance blanket using a number of sports and society t-shirts and sweatshirts
Whatever items you choose, you can be sure that we will create you a keepsake that you'll fall in love with and treasure forever.
If you're interested in ordering one of our beautiful, handmade memorial blankets, please browse our range of designs, sizes and colour options.
If you've got any questions about our services or would like to enquire about us creating a memory blanket in a non-standard size, please call us on 01752 936765 or complete our contact form to provide details of your request.
Christening Gown
May 17, 2022 by Victoria Genever
I decided to get my wedding dress made into a christening gown for my son. I was nervous sending my dress off, but I had no reason to be. I have received the christening gown back today, and I am so happy! It fits perfectly and met all my criteria. It is so beautiful and I'm excited for my sons christening to show off his gown.
Memorial Bears
May 6, 2022 by Mandie Gray
Absolutely fantastic service! Today we received our very special bears in memory of my lovely Dad. Thank you, thank you, thank you! We love them
Here's two of them sat on his chair.
Memory Bear
April 12, 2021 by Rachel Eatwell
My husband bought me a weighted bear for my birthday made out of our little girls first clothes and I would like to say how beautiful it is. I am so pleased with it and you have done such a wonderful Job! I will defiantly be sure to recommend you x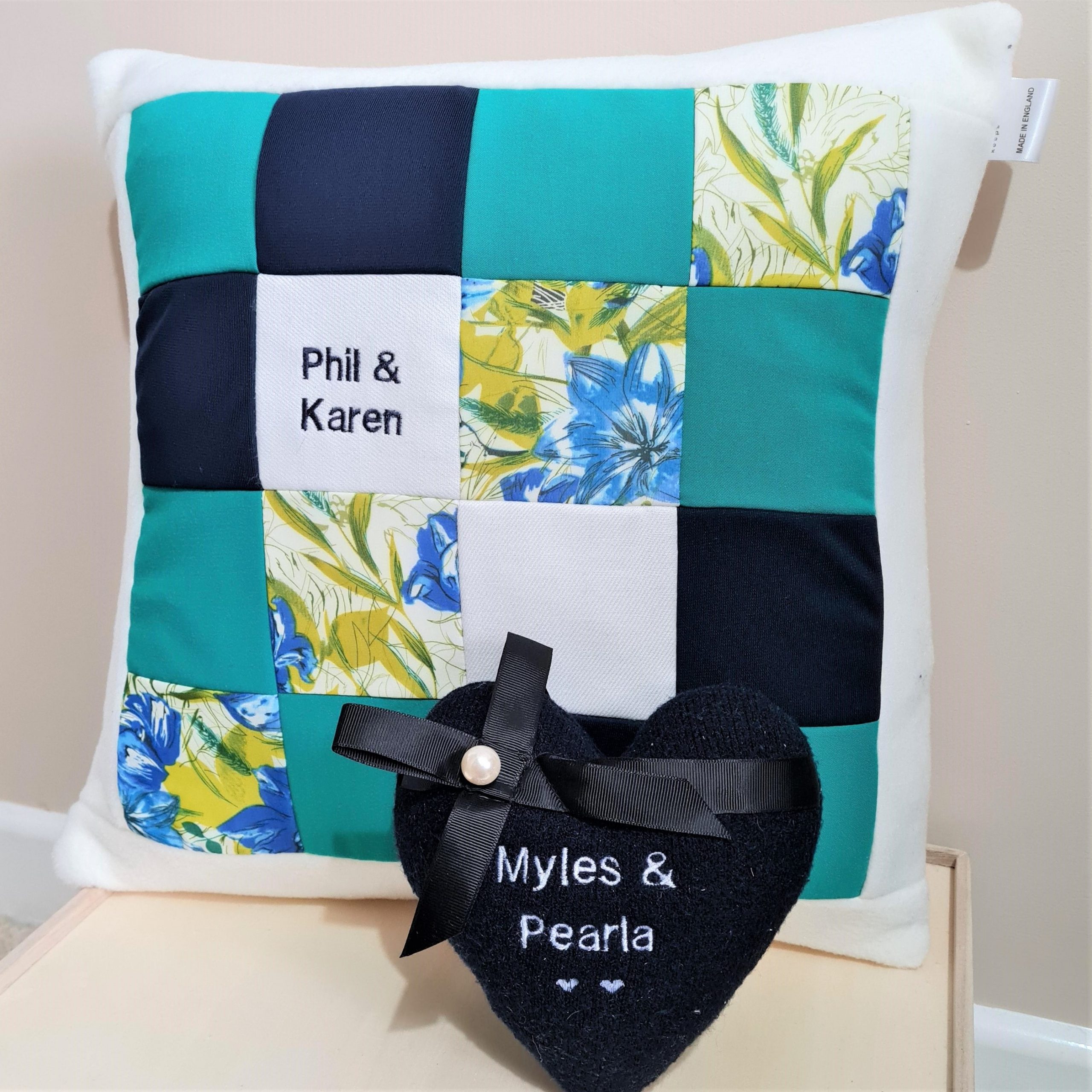 Cushion & Heart
April 5, 2021 by Sue & Lizzie
I'm in love with the keepsakes you have done for me. Thank you ever so much for everything you have done in creating these for us with mums clothes. We will treasure them forever. I am so touched by the way you have talked me through each stage as it was initially a very difficult thing to do. Thank you from the bottom of my heart.
Luxury Quilt
Nov 3, 2019 by Mahamid Latif  
My wife sadly passed away.  To keep her memory alive my daughter suggested that we did something with her clothes. I spoke with infinity keepsakes and asked questions, they explained everything really well.  Both quilts arrived in times and my daughter and I were both astonished with the amazing quality of workmanship.
Shirt Cushion
Dec 21, 2019 by David O'Conner
Had a shirt cushion made from my dads t-shirt for my daughter. I cant wait for her to open it on Christmas day! This will mean the world to her! I would highly recommend and will certainty be a returning customer in the future.